Remote work tools: 3 reasons to choose Microsoft Teams as a technology solution for your business
Blog
,
Cybersécurité
22 juillet 2020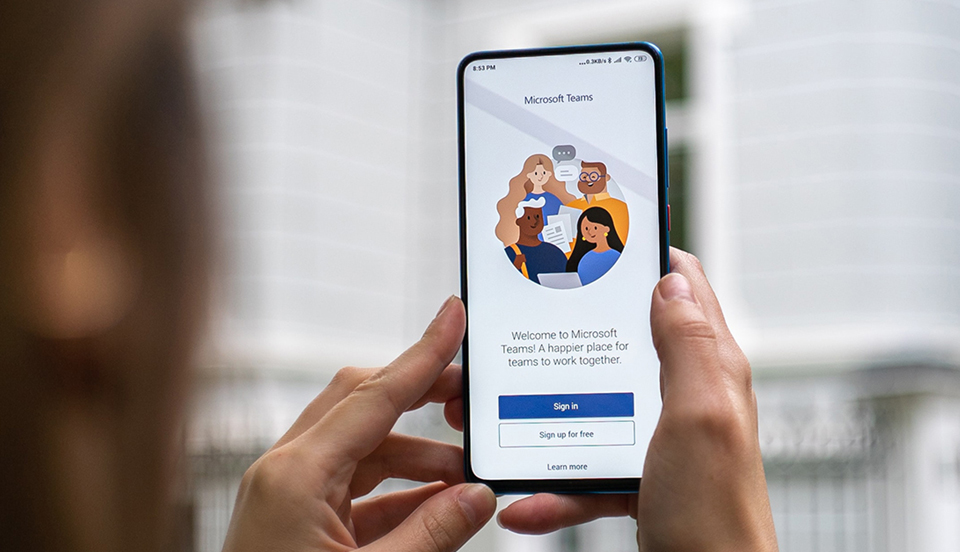 Has your company recently shifted to teleworking? Congratulations on that great initiative! Now, it's natural for you to be asking yourself which technology solution is right for your business from among the many teleworking tools available on the market. In our opinion, the Microsoft Teams platform is the best choice. Here's why.
1. A Microsoft tool
As its name suggests, the Microsoft Teams platform was developed and is powered by the computer and cloud computing giant Microsoft. Launched in 2016, this collaborative communication application integrates with the popular Microsoft Office 365 Business suite (Word, Excel, PowerPoint, Outlook, etc.).
Among other things, it includes a videoconferencing tool for meetings, a chat tool for group exchanges and a file-sharing tool for internal or external collaboration.
Teams, like Microsoft's other software products, is designed to meet the needs of businesses large and small. So, whether yours has three employees or 300, this solution can suit your needs. But that's not all.
2. Practical applications for your company's productivity
Companies hurriedly signed up for a host of tools in a bid to find solutions that would allow their employees to work remotely almost overnight. On their own, these tools can be useful. However, as they all work on different platforms, it can be impossible to use them effectively for collaborative work because they don't integrate well.
Microsoft Teams delivers a turnkey solution that can boost your company's organizational productivity; not only does it offer the basic tools mentioned above but also 500 compatible applications available in the Store, including:
To-Do – to create personal and team to-do lists
Planner – to manage projects
Polly – to keep in tune with your employees' concerns through surveys
All these features make Teams a powerful communication, collaboration and sharing portal that will provide an efficient and smart remote work environment for your company after a simple and easy transition. However, there is another aspect that needs to be considered to make it the best solution on the market.
3. A secure remote work solution
You're probably thinking: "Yeah, but a Microsoft Teams subscription isn't free." As tempting as they may be, keep in mind that free solutions typically involve higher risks. Recall that some free videoconferencing applications, whose popularity literally exploded in the first months of the COVID-19 lockdown, have come under fire because of major security flaws.
Would you compromise the security of your company's operations for a few dollars a month? Using unprotected computer equipment is like leaving your office doors unlocked. As experts in business computing, we only recommend robust solutions, like Microsoft Teams, that feature regular updates and options to enable dual authentication.
Concerned about your company's cybersecurity? Read this article to find out more.
BGR Informatique: your Microsoft Teams partner
Now that you are aware of all the benefits of using the Microsoft Teams platform for your business, it's time to take action. At BGR Informatique, we know this IT solution through and through – after all, we specialize in implementing IT solutions.
Whether you need to manage, integrate, secure or support your team in the use of Microsoft Teams, we're available to meet your every need. Moreover, our experts can advise and support you throughout this IT shift that is essential in 2020. To find out how to get started, contact us.
---